Brown Family Endowed Scholarships
The Brown Family Endowed Scholarships help support students of nursing and computing at Kennesaw State University. They were established by Margaret and Frank Brown's family and children, but anyone can contribute to the scholarship funds and so enable the funds to help more students.
The Margaret Aldrich Brown RN Endowed Nursing Scholarship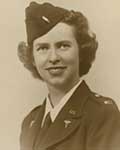 Peggy Aldrich's first nursing job started with being put ashore on a beach in France right after the invasion of Normandy in June of 1944. She said she and the other nurses carried cosmetics in their gas mask bags. Lipstick was particularly important because they used it to write a big red "M" on the foreheads of casualties who had been given morphine. Nurses then, as now, were problem solvers as well as care givers. She met her future husband, Frank Brown, in France; they were married soon after the end of the war. Her family and children have established the Margaret Aldrich Brown RN Endowed Nursing Scholarship to help others prepare to tackle nursing's toughest jobs with the same compassion and devotion Margaret Brown showed to her patients.
The Frank L. Brown Endowed Computing Scholarship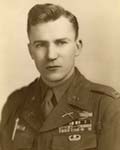 Frank L. Brown joined the U.S. Army at a time when cavalrymen rode horses, but he quickly made the transition to airplanes. He was one of the Pathfinders who parachuted into Normandy the day before D-Day to mark landing sites for the invasion of France. He met his future wife at an Army field hospital in France. By the 1950s he recognized the coming importance of computing and encouraged one of his sons to learn about computing through gifts of books and a simple device that performed computations using switches. Half a century later, that child retired from the faculty of the College of Computing and Software Engineering at KSU after having also taught at Southern College of Technology and Southern Polytechnic State University. Frank Brown's family and children have established the Frank L. Brown Endowed Computing Scholarship to help others learn about computing and perhaps become teachers of computing themselves.
How to Apply
The Brown Family Scholarships are open to students at Kennesaw State University. Nursing scholarship candidates must be pursuing a Bachelor of Science in Nursing degree. The computing scholarship is open to undergraduate or graduate students in the College of computing and Software Engineering. Both are merit scholarships; candidates must demonstrate potential for outstanding performance in the professions of nursing or computing.
To apply, visit KSU's Office of Scholarships and Financial Aid page and follow the instructions under Apply for Student Aid.
How to Contribute
To contribute by check, make your check payable to Kennesaw State University Foundation and put "Margaret Brown Endowed Nursing Scholarship" or "Frank Brown Endowed Computing Scholarship" on the memo line. Send your check to:
KSU Foundation, MD 9102
1000 Chastain Road
Kennesaw, GA 30144
To contribute on line, use the form below or go to the KSU Scholarships page.